Dual monitors can be great for boosting your productivity, even if they have their own unique problems. If you already have a great monitor, you can just buy another good monitor to easily expand your display real estate. But if you're starting from scratch, there are some monitors that are great picks for multi-monitor setups.
Here are some of the best monitors you can buy for dual-display setups.
Innocn 27M2U-D
Best dual-setup monitor overall
Pros
High brightness
Great color support
4K resolution looks extra crisp at 27 inches
Good price
Cons
Low refresh rate
Plastic bezels feel cheap
Why you should buy this: It's a high-spec display with thin bezels, at a great price.
Who it's for: Just about anyone, though competitive gamers might prefer a high refresh rate display.
Why we picked the Innocn 27M2U:
Innocn might not have the household name of its contemporaries, but it makes some excellent displays at a great price. The Innocn 27M2U is a great example of that, with just about every box ticked that you could hope for. It has great brightness from its Mini-LED backlighting (up to 1,000 nits), strong contrast, great color accuracy, wide color gamut support, a good selection of ports, and USB Power delivery for charging devices.
The only area this display doesn't excel is in gaming, where its 60Hz refresh rate does hold it back a little. However, there are other monitors for that — including from Innocn. So you can always combine this with a more gaming-focused display if you need it, or just focus on more cinematic games where you aren't striving for a 1ms advantage in a competitive game.
The stand on this monitor is great, giving it a sturdy, but adjustable base, and there's an impressive port selection, including DisplayPort 1.4 and HDMI 2.1. There's also an automatic dimmer built in to help reduce eye strain at night, which is a nice touch if you work until the wee hours.
The plastic feel of the bezels doesn't scream quality, but it still looks good, and when there are two side by side, you'd be hard-pressed to spot the gap.
Innocn 27M2U-D
Best dual-setup monitor overall
AsusProArt Display PA278QV
Best for creatives
Pros
Bright picture
Excellent color accuracy
4K resolution
USB-C port with 65-watt power deliver
Why you should buy this: It's a gorgeous screen with thin bezels and excellent color support.
Who it's for: Creative professionals and hobbyists who want a vibrant image.
Why we picked the Asus ProArt Display PA279CV:
This display is everything a creative individual needs and can go well with a second one of these or paired up with something with more of a gaming focus, if you want to play in your downtime. When you're working, though, this monitor is excellent, with a high brightness, impressive color support across the most important gamuts, and great color accuracy. It's vibrant, and has impressive contrast for an IPS monitor, so the picture quality is excellent whether you're photo editing or color grading.
The bezels on this design are super-slim, too, so if you do put two side by side, there won't be a huge plastic bar between them. There is still something there, so it's not entirely seamless, but it's not so obvious that you couldn't easily split applications across both windows if that was of some benefit.
This isn't a gaming monitor, though. As bright and colorful as it is, its low refresh rate makes it less suitable.
AsusProArt Display PA278QV
Best for creatives
LG Ultragear 27GR95QE
Best OLED for dual displays
Pros
Vibrant colors and HDR
Excellent motion clarity
Fantastic matte finish
Generous port selection
Sturdy stand with plenty of adjustments
Cons
Low SDR brightness
Some text clarity issues
Remote is necessary to control the display
Why you should buy this: It's a beautiful, bright OLED monitor with thin bezels and great specs.
Who it's for: Gamers, or movie lovers who want a high-contrast, vibrant display (or two).
Why we picked the LG Ultragear OLED 27:
OLED and QD-OLED monitors are the hot new technology when it comes to monitors, but they don't have to be huge like the big Alienware QD OLED we loved so much last year. This 27-inch OLED monitor from LG is fantastic for just about anything, whether by itself or as one half of a dual-monitor setup.
It's a 1440p monitor with a 240Hz refresh rate, making it awesome for gaming. It's great for watching movies with its excellent HDR, high contrast, and broad color support, and it has a great range of inputs, including HDMI 2.1, DisplayPort 1.4, and several USB ports. At 27-inches, the resolution looks great, with densely packed pixels delivering a crisp and clear image.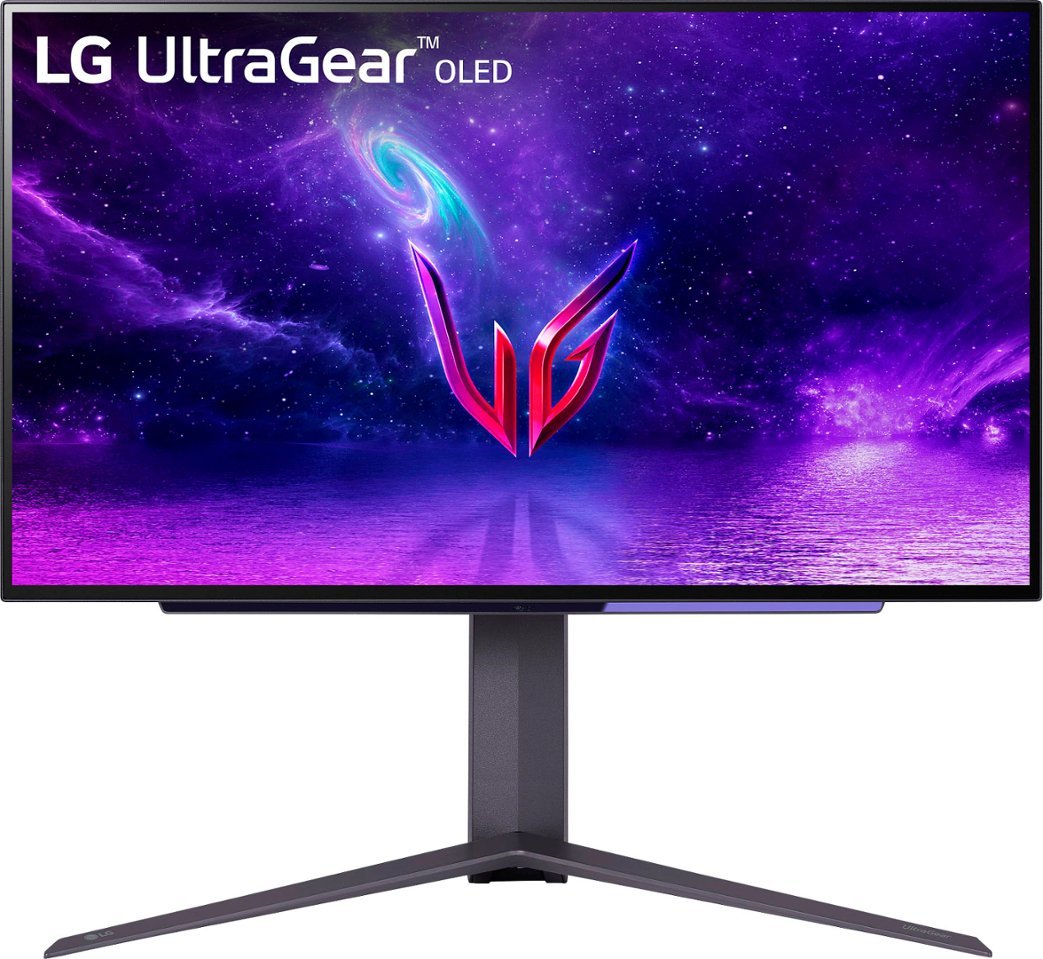 LG Ultragear 27GR95QE
Best OLED for dual displays
Dell U2723QE
Best for the office
Pros
Crisp 4K image
Strong contrast, including enhanced blacks
Good brightness in SDR
USB hub makes it great for connecting accessories
Cons
Lacks gaming features
Low HDR brightness
Why you should buy this: Its a crisp and clear monitor with thin bezels.
Who it's for: Office workers who want to expand their screen real estate without unnecessary features.
Why we picked the Dell U2723QE:
The Dell U2723QE is an excellent 27-inch monitor for professionals or office settings. At 27 inches and 4K resolution, it offers lots of screen space by itself or as part of a dual-monitor setup. It has thin bezels, so if you need to stretch an app across both, it won't be too intrusive.
The SDR brightness on this monitor is more than enough for everyday office work, although it's not so great at movies and HDR. It has a low refresh rate, so it's not ideal for gaming, but it has a very crisp picture with an abundance of pixels in a modestly sized monitor. The stand has impressive ergonomics, too, letting you minutely adjust it to the right position — something that can be invaluable when dealing with multiple monitors.
It has a great selection of ports, including HDMI 2.1 and DisplayPort 1.4. It also has a USB-C connector with 90-watt USB power delivery, so you can charge your laptop straight from this display if you want to. There's even a KVM switch built in, so you can use your display and peripherals across multiple devices with ease.
Dell U2723QE
Best for the office
Apple Studio Display
Best for dual displays on Mac
Pros
High 5K resolution looks great
Incredibly high brightness
Great color accuracy and wide color support
Works well on Windows and Mac PCs
Wide viewing angles
Cons
Limited stand ergonomics
High price tag
Not well-suited for gaming
Why you should buy this: It's one of Apple's best-looking displays, but it's relatively affordable.
Who it's for: Mac and MacBook owners who want a lot of screen space.
Why we picked the Apple Studio Display:
While Apple's Pro Display XDR might still be the best-looking Mac display, the Studio Display gets pretty close, and does so at around a third of the price.
Combine two of these and you have the ultimate in productivity setups. At 5K resolution, they look gorgeous, and there's tons of screen space with that many pixels to play with. You'll need to jump through a few hoops to get dual displays working on some MacBooks, but if you do, the Studio Display will give you an amazing dual-monitor experience.
Want an alternative to the Apple Studio Display? These are our favorites.
Apple Studio Display
Best for dual displays on Mac
Cooler Master Tempest GP27Q
Best dual-monitor setup for gaming
Pros
Fantastic color performance
576 full-array local dimming zones
Wide range of stand adjustments
165Hz refresh rate
Adaptive Sync support
Cons
Weak cable management solution
Poor black levels
Why you should buy this: It has great colors, a high brightness with impressive contrast, and a trim design.
Who it's for: Gamers who want a fast, beautiful monitor or two.
Why we picked the Cooler Master Tempest GP27Q:
This is our favorite 1440p gaming monitor, so it's no surprise that it's great for dual-monitor gaming setups. It has incredible brightness, a high 165Hz refresh rate, impressive local dimming for HDR gaming, and a Quantum Dot layer for vibrant colors. It doesn't have the contrast of OLED, but it's much more durable, with no risk of burn-in, and it still offers impressive blacks and very rich colors.
The design is attractive and trim, meaning you can play across dual monitors without too much of a break in immersion. It's relatively affordably priced, making buying two for under $1,000 a distinct possibility, and it has all the important gaming features, including adaptive sync (though not Freesync or G-Sync), great color support across multiple gamuts, and a superfast response time.
This is a snappy and great-looking gaming monitor, and two of them looks even better.
Cooler Master Tempest GP27Q
Best dual-monitor setup for gaming
Want even more options? Here are the best monitors you can buy today, whether you keep them by themselves or use two.
Editors' Recommendations