A lot of runners will tell you that they can't go on their morning jog or nighttime trek without their favorite playlist. Not every pair of earbuds are suitable for running, though. Wired headphones, for instance, might become a nuisance after a few minutes, and poorly designed earbuds can quickly fall out with a little sweat or movement.
Our team went the distance for this roundup, merging the expert opinions of our combined 50-plus years of audio industry experience with our serious fitness bench depth to land on our winning sports headphones. We're extremely confident that the JLab Epic Air Sport ANC wireless earbuds are the best running pick … although we've rounded up some excellent alternatives, too.
Each of these options has specific strengths, so consider your needs and decide accordingly. The selections below are the best headphones for running but are also excellent for general fitness, too.
JLab Epic Air Sport ANC True Wireless Earbuds (2021)
Pros
Simple setup
Stable, comfy fit for working out
Outstanding battery life
IP66 weather-resistance rating
Good, customizable sound
Cons
Average call quality
Mediocre ANC
Why you should buy them: A well-rounded mix of features and some grippy ear hooks keep these buds firmly in place, making them our top choice for runners and their budgets.
Who they're for: Those who want it all — great battery life, comfort, sound quality, noise cancellation, and IP66 sweat-proofing — at a price that won't force you to cancel your gym membership.
Why we picked the JLab Epic Air Sport ANC:
JLabs has been a reliable option for affordable sports earbuds that still provide plenty of jogger-friendly features, but these, the latest version of the company's tried-and-tested Epic Air Sport earbuds, take things to the next level. Not only are these sports earbuds affordable at under $100, but JLab has upped the ante by adding active noise cancellation (ANC) with three modes — ANC On, ANC Off, and Be Aware, a transparency mode that that allows more ambient noise in so you can pay attention to surroundings while you jog. The addition of the JLab Air ANC app gives you a wide range of customization with the Epic Air Sport's ANC, with sliders to set the level of noise cancellation and outside sound to perfectly suit your preferences. The app also allows for four EQ presets for further sound customization, whether you're running jam is metal, dance hits, or podcasts.
Of course, the app isn't always going to be the easiest thing to access while on a run, so the Epic Air Sport ANCs also have a range of touch controls on the earbud's surfaces with sensors that support single- and multi-tap options to control a variety of settings, including play, pause, volume, call answer/decline, activation of Siri or Google Assistant, EQ preset change, and cycling through the buds' ANC modes.
The Epic Air Sport ANC includes time-saving features like automatic detection and connection to phones via Bluetooth 5.0, but let's talk about one of the stars of the show here — battery life. Another strong suit for the brand, the Epic Air Sport ANCs impresses with 70 hours of total listening time with ANC turned off and 50-plus hours with it turned on. Each bud delivers a whopping 15 hours per charge without ANC and a still-impressive 11 hours with.
If you're worried about fit, the Epic Air Sport ANCs come with a selection of both gel and foam tips to experiment with so you can find the right option for avoiding slippage, and the aforementioned ear hooks keep the earbuds firmly in place during even the most rigorous runs and workouts. The IP66 resistance rating is also well-suited for outdoor workouts, protecting the earbuds from sweat and dust no matter where you're at.
JLab Epic Air Sport ANC True Wireless Earbuds (2021)
JBL Reflect Aero TWS
Pros
Excellent IP68 resistance
Some of the best ANC we've seen
Eight-hour battery life
Cons
The company design may not be a secure fit for everyone
Why you should buy them: The fit, durability, and accessible features make these some of the best all-purpose sports earbuds around.
Who they're for: Runners who want the best mix of sound, features, and durability.
Why we picked the JBL Reflect Aero TWS:
Our previous JBL pick, the Reflect Flow Pro, was an excellent set of earbuds with some of the best noise-cancellation features that we've come across, in a new compact design that could even withstand swims in saltwater. Our current pick, the Reflect Aero TWS, has many of the same advantages but at a notably lower cost, allowing you to save some money while still picking up a remarkable pair of sports earbuds.
The adaptive noise canceling uses four mics with Smart Ambient technology to constantly monitor your current environment, and it's very good at its job. There's another set of beamforming mics to help eliminate additional noise if you are taking calls and want to be heard. And that remarkable IP68 resistance rating means the earbuds are dustproof and can go up to 5 feet in any kind of water (although we note that's a great way to lose an earbud).
The design is made to be minimal, with small tips and compact fins for stability, but inside, the 6.8mm drivers are doing serious audio work, so you won't be skimping on sound quality. The eight-hour battery life is also great to see, and the case holds another two charges in reserve. These are incredibly well-rounded earbuds that make a particularly good pick if you play a lot by the ocean or on dusty trails.
Beats Powerbeats Pro
Pros
Class-leading battery life
Water resistant
Secure fit, sleek design
Bold, vibrant sound
Cons
No basic battery gauge
Massive case
Intermittent connection issues
Why you should buy them: Glorious sound quality with a battery that'll outlast even the longest runs.
Who they're for: iPhone users who want truly wireless earbuds that give them hands-free Siri and sweatproof performance.
Why we picked the Beats PowerBeats Pro:
iPhone users who wanted a set of truly wireless earbuds that could take full advantage of everything their smartphone could offer only had one choice until the PowerBeats Pro were launched: Apple's own AirPods. With middling battery life, no ability to deal with sweat or lots of movement, and sound quality that impressed no one, AirPods weren't exactly a runner's first choice. The Beats PowerBeats Pro changed all of that.
With a gargantuan nine hours of playtime on a single charge, it's unlikely these earbuds will need to stop for a break before you do. They're also more than able to deal with the moisture generated by even the most vigorous workout (though you should probably shower without them), and they've got that classic Beats sound: punchy in all the right places, especially in the low-end.
The PowerBeats Pro offers a comfortable yet secure fit, keeping the over-the-ear clip design of the not-fully-wireless PowerBeats 3 while managing to improve on that formula. Siri can be summoned simply by calling her name (or pressing a button), and the included volume rocker switch is a huge improvement over AirPods, which lack such a feature.
These earbuds don't offer pass-through audio from the embedded microphones, so you'll have to be cautious when working out near traffic or other hazards, but they do have an excellent (and customizable) auto-pause feature when you remove an earbud, which at least makes stopping for a chat more convenient.
Apple's AirPods Pro, with their IPX4 rating and pass-through audio, are an excellent alternative for iPhone users, though we think serious joggers will prefer the more secure fit of the Powerbeats Pro.
Plantronics BackBeat FIT 2100
Pros
More-affordable running earbuds
Cool app features
Waterproof
Reflective band
Why you should buy them: These headphones are built from the ground up for running but won't make your wallet sweat.
Who they're for: Serious runners who want a good pair of headphones under $100.
Why we picked the Plantronics BackBeat FIT 2100: 
If you're looking for a more affordable audio option that still doesn't skimp on running-friendly features, Plantronics workout headphones are right for you. They're waterproof and sweatproof, have a very secure fit, and include a reflective finish around the band so that you're easier to see when jogging at night. The eartips in the wireless earbud are also designed to let in a certain amount of ambient sound so nothing easily surprises you.
A full charge of the battery will last for up to seven hours. Keep in mind, with the ambient sound design and low cost, audio quality isn't going to be perfect all the time, but it's good enough to enjoy music while working out.
The BackBeat app is also capable of some cool feats, including the ability to tap on the BackBeat FIT 2100 to begin a preset timer and playlist without ever pulling out your phone. You can also use this as a stopwatch for more aggressive training calculations, and with a wireless range of 33 feet, your device doesn't necessarily need to be at your side while you work.
Plantronics BackBeat FIT 2100
Anker Soundcore Sport X10
Pros
Comfy fit and stability
Rugged durability
Good sound quality
Solid ANC and ambient performance
Great app support
Cons
Wind can break through
No aptX support
No wireless charging
Why you should buy them: Anker adds ANC to its excellent line of sports buds, which feature versatile ear hooks.
Who they're for: Active users who like to adjust earbud fit to get it just right.
Why we picked the Anker Soundcore Sport X10:
Anker has updated its sports-friendly line of earbuds to include a version that finally has ANC, offering impressively solid cancellation with an effective ambient mode. The dynamic acoustic system is designed to pump up the bass without interfering with other ranges, while the IPX7 rating ensures that sweat, rain, and water are no obstacle to your workout tunes.
One of our favorite features of these earbuds is the set of ear hooks, which are both quite flexible and have a 210-degree rotation. That allows you to keep adjusting the earbuds until you find the perfect spot in your ear for them to rest, then hooking them in place. Everyone's ears are different, and if you often have trouble with earbud placement (especially when running), you may appreciate the adjustable of the Sport X10s.
Battery life on these Anker buds is also solid, with up to eight hours on a single charge and a case that can hold up to three additional charges. We also really enjoyed our time with the SoundCore app, with a 21-preset EQ to play with, an eight-band equalizer for customization, and even programs for breathing while you stretch for your workout.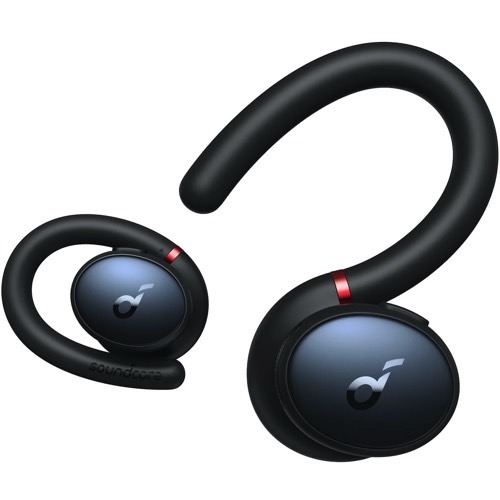 Anker Soundcore Sport X10
Shokz OpenRun Pro
Pros
Open-ear conduction design
Durable titanium design that still manages to be comfortable
10-hour battery life
Cons
Bone conduction design isn't for everyone
Why you should buy them: You want unique headphones with a strong sound that still keep your ears open.
Who they're for: People who don't want to compromise on their running headphones and are willing to try innovative technologies.
Why we picked the Shokz OpenRun Pro:
"Bone conduction" headphones use vibrations on bones near your ears to transmit sound, leaving your ears free for comfort and the ability to hear ambient noises while you are out jogging. This particular model uses small tabs that rest tightly on your cheeks just beside your ears, while early versions struggled with bass and definition.
When Aftershokz became Shokz, they updated their design and created the OpenRun Pro, a better and more comfortable model than ever before, with a titanium frame to keep the headphones from slipping. The new battery lasts for up to 10 hours for music or calls and features a five-minute quick-charge option so it will be ready for your runs whenever you are.
The OpenRun Pro is also fully waterproof and sweatproof (no swimming, though). They're also surprisingly lightweight and comfortable despite their unique design. The experience isn't exactly like traditional headphones, but this option keeps you safe while still allowing you to enjoy any music or podcasts you want when out and active.
Jaybird Vista 2
Pros
Fully water and dustproof
Compact and secure fit
Great sound quality
Wireless charging
Cons
Very poor call quality
ANC struggles with wind noise
Why you should buy them: The addition of safety features and excellent damage resistance makes these earbuds a good pick for adventurers.
Who they're for: Users who don't want to worry about dropping, squashing, stepping on, or accidentally throwing their wireless earbuds during a workout.
Why we picked the Jaybird Vista 2:
We already liked the fit (including three gel tip sizes) and performance of the first Vista earbuds, but the second generation elevates them with even more useful features. One of the most notable is the hefty IP68 durability and MIL-STD 810G that combine to make these earbuds waterproof, sweatproof, dustproof, protected against freezing, and protected against shock or impact. You don't really have to worry about something going wrong here.
But the design is clever in other ways, too: The 6mm milled drivers offer excellent audio, plus the ability to customize some EQ profiles for your preferred sound. If you need to make calls, the beamforming mics will pick up your voice and are specifically designed to block out the wind from movement or weather so your voice isn't muffled. Controls also are easy with a two-tap method to switch between Active Noise Cancellation and SurroundSense.
About those last two modes — the Active Noise Cancellation is great to see, but SurroundSense is one of those newer modes appearing on outdoor-oriented earbuds. It reduces cancellation features so that you can hear your ambient noise in your surroundings, ideal for watching for cars or others when going for a jog. Finally, the Vista 2 earbuds also received a battery boost with a new eight-hour battery and a case that can hold up to two charges.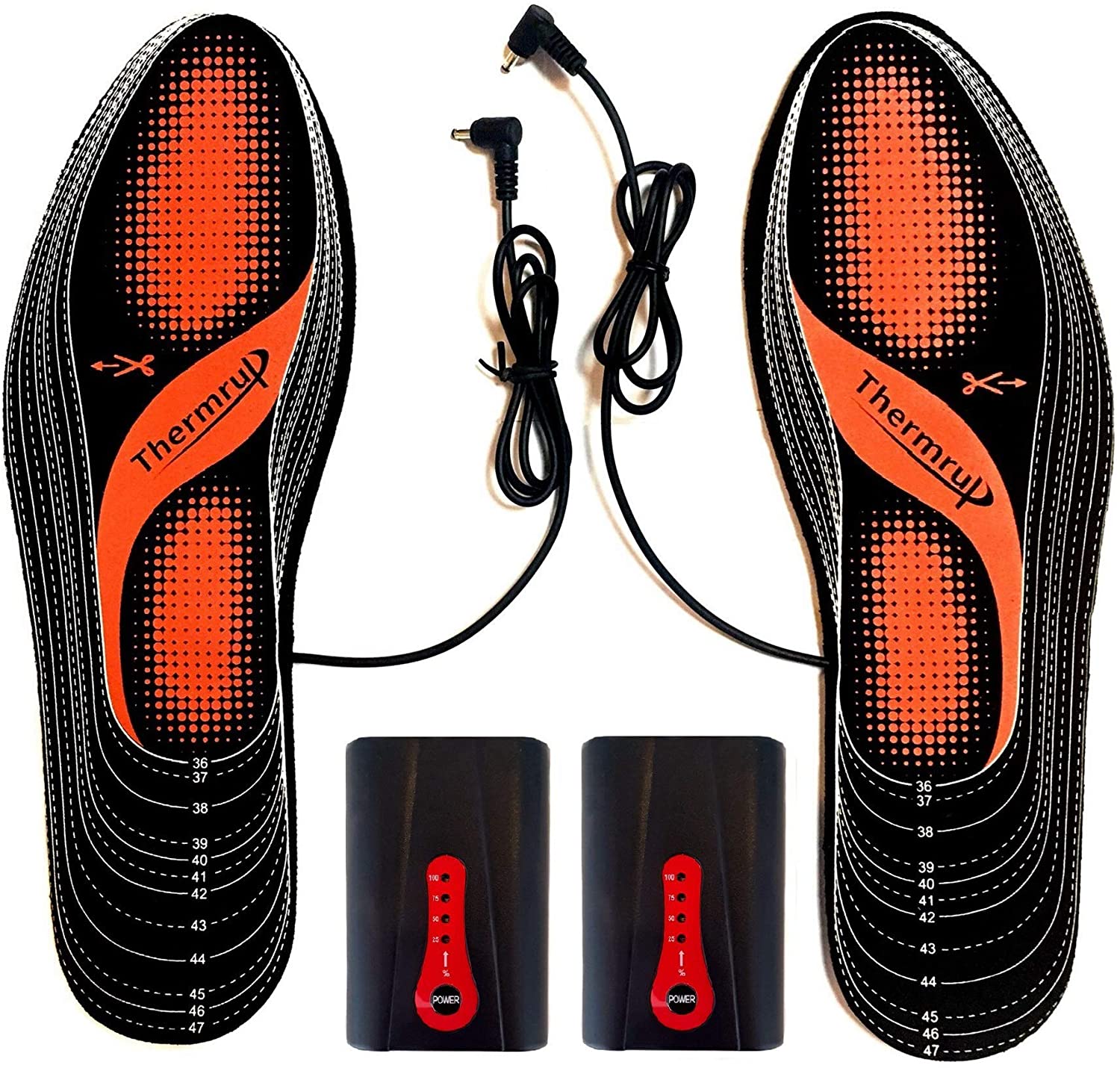 Frequently Asked Questions
Do running headphones have built-in storage?
Not usually. Most modern running headphones stream music from your phone or smartwatch via Bluetooth.
Should I buy wired or wireless headphones?
If you're planning on being active, it's usually best to get wireless headphones, as there are no cables to get in your way. Keep in mind that true wireless earbud models also remove the cable connecting the earbuds together. But that can also make it easier for earbuds to slip out during exercise. Some models help solve this problem with ear hooks or bands.
Should I buy waterproof headphones?
Not everybody needs waterproof headphones, although many people appreciate the assurance they provide. Runners' headphones often end up covered in sweat and also tend to be exposed to the elements, such as rain. Waterproof headphones offer the most protection against moisture, but water-resistant ones will at least offer some protection.
Water resistance is a ratable feature on headphones, and it appears as an IP rating on the product details. Before you purchase anything, make sure to figure out what these IP ratings mean (and what rating you should aim for). If you need more resources, consider checking out our best headphones for swimming, since these should do the trick for runners, too.
Do running headphones offer a heart rate monitor?
While some headphones offer heart rate monitors, they are nowhere near as accurate as conventional heart rate monitors that you would strap to your chest or wrist. If you want the most precise heart rate reading, we would still recommend relying on chest-based monitors or even a smartwatch.
How do I find running headphones that fit my ear?
Headphones don't have to envelop your entire ear to ensure they will stay on, and earbuds often come with multiple tip sizes to try on. Most modern running headphones come with various ear tips and ear fins to suit ears of all sizes. Still, we recommend trying on the headphones you plan to buy whenever possible since an in-person fitting is the best way to ensure a good, comfortable fit.
Editors' Recommendations