Achieving theater-level picture quality at home is getting closer to reality. Whether you want the best home theater projector to take your cinema room to the next level, or are hosting a backyard movie night, picking out the right projector brings its unique challenges. There are different terms and specs compared to more familiar TVs. Luckily, our team is here to help you find the right purchase.
Just take a look at our top pick, the Optoma UHD55, as an example of market-leading resolution, solid refresh rates, and a variety of connection options. And that's only the beginning of the best home projectors. Let's take a look!
Optoma UHD55
Best all-around home theater projector
Pros
4K resolution
240Hz refresh rate with gaming mode
Extra-high 3,600 lumens
HDR10 and HLG support
Cons
Takes up some room and will need careful placement
Why you should buy this: It offers 4K resolution, a 240Hz refresh rate, and gorgeous color for the price.
Who it's for: Gamers and film enthusiasts who want the best possible image quality for the money.
Why we picked the Optoma UHD55:
If you want to experience insane refresh rates while gaming and theater-like quality in your living room at an affordable price, there is no better option than the Optoma UHD55, in our opinion. Officially referred to by the company as the "4K UHD gaming and home entertainment projector," the Optoma UHD55 has 3840 x 2160 UHD resolution and astonishing color, to take your favorite films and TV shows and project them in optimal 120-plus-inch glory (to a maximum of 302 inches). The built-in media player allows you to play videos from a USB stick, while Optoma's own app store gives you access to apps like Netflix, Spotify, and YouTube. You can also mirror Android, iOS, Windows, MacOS, and Chrome devices. The UHD55 also supports Alexa and Google Assistant.
With 3,600 lumens of brightness — plus support for HDR 10 and HLG — the UHD55 will take anything you throw at it and reproduce it with breathtaking clarity, especially games. PC gamers, in particular, will be treated to the UHD55's Enhanced Gaming Mode, which delivers a 240Hz refresh rate and low latency 4 milliseconds response time when playing at 1080p resolution. Playing at 4K isn't too shabby either, with 60Hz refresh and 15 ms response time, allowing gamers to choose their priority — speed or gobsmacking resolution.
Two HDMI ports (HDMI 2.0 and HDMI 1.4), VGA, and optical connections mean that you'll be able to easily connect the projector to everything under the sun, including older computers and modern streaming devices and sticks. It even has a USB power port, which provides juice for external players and phones alike.
Finally, the UHD55 comes with a vast array of color modes out of the box, including hyper-accurate Cinema and Bright modes, each of which is catered toward a different type of content.
Optoma UHD55
Best all-around home theater projector
BenQ CinePrime HT5550
Best projector for darkroom cinephiles
Pros
Excellent color accuracy
Automatic angle correction
Contrast optimization
Cons
Not portable
Lower lumen levels could cause issues in brighter rooms
Why you should buy this: It sports 4K UHD resolution, HDR support, and movie modes optimized for dark theater rooms.
Who it's for: Film fanatics who want a well-priced projector with color accuracy that's as close as possible to film industry standards.
Why we picked the BenQ CinePrime HT5550:
Great picture quality is at the heart of the HT5550, which delivers 4K resolution, vivid 1,800-lumen brightness, and support for HDR10/HLG as well as Benq's own HDR-Pro.
But where cinephiles might be most interested is in the projector's DCI-P3 color gamut and CinematicColor tech, which is designed to closely reproduce the colors of the Hollywood film industry. Additionally, this dynamic color and contrast make the HT5550 ideal for authentic viewing in dark rooms, allowing for that true movie theater experience. The HT5550 also boasts a dustproof lens hood, 1.6 zoom option, 2D lens shift, and other excellent AV features with image support up to 300 inches.
Though the HT5550 isn't designed to be portable, it is lightweight enough to do the job, should you want to put together pop-up viewing events, and a quick and easy setup process makes it equally agile if you plan on toting it between locations every so often.
With a lamp that should last 4,000 hours at normal use (10,000 in SmartEco mode), the BenQ CinePrime HT5550 should last through years of playback, and with an image quality this good, you won't be thinking about an upgrade for a very long time … although it won't deliver nearly as well in bright rooms.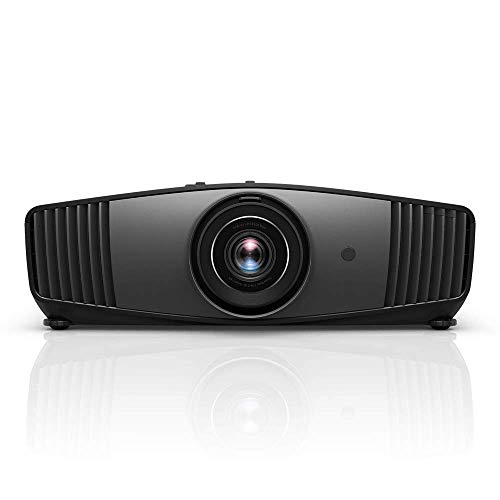 BenQ CinePrime HT5550
Best projector for darkroom cinephiles
Samsung LSP9T Premiere Projector
Best smart-home short-throw projector
Pros
Compatibility with voice assistants
Compact, short-throw design
30-watt speakers and subwoofer built in
Why you should buy this: It offers a bright, vivid image plus smart home features.
Who it's for: Those who use voice assistants in their smart home, and those who prefer a compact image.
Why we picked the Samsung LSP9T Premiere Projector:
Samsung's projector comes ready for the modern smart home thanks to its Tizen platform, which supports Alexa, Google Assistant, and Bixby, allowing you to give voice commands to control playback, search for shows, or operate other smart devices in your home. With 2,200 lumens and a laser engine designed for brightness, you won't have to worry about watching during the day, either.
This model offers 4K resolution at 120 inches, and the ultra-short-throw design means you can place it only inches away and still get excellent results.
Like some of our other picks, the Samsung LSP9T Premiere also includes a filmmaker mode for authentic projection. And while all projectors benefit from external speakers, this model's 30-watt speakers and subwoofer can do a fine job on their own — and give you the freedom to take the LSP9T Premiere anywhere.
Samsung LSP9T Premiere Projector
Best smart-home short-throw projector
Epson EpiqVision Ultra LS800
Best projector for light-filled living rooms
Pros
4,000 lumens
4K tech designed to work with high brightness levels
Dedicated gaming port
Android TV
Cons
You're on your own for audio
Why you should buy this: It produces a bright, high-quality image that is ideal for watching during any time of day.
Who it's for: Anyone hoping to incorporate a theater-sized display into their bright living room.
Why we picked the Epson EpiqVision Ultra LS800:
While the aforementioned CinePrime HT5550 excels in dark or light-controlled environments where you can hit the lights and settle in for movie night, some low-light projectors can struggle in well-lit rooms, which can be a problem if you need lights on for socializing or are watching an afternoon game.
Epson's EpiqVision is the solution for bright rooms, with lighting that can go up to an incredible 4,000 lumens so that ambient lighting won't be an issue when trying to make out details. It's also an ultra short throw model, so it won't need any extra space during setup – although you will want to make sure you have a projector screen large enough (Epson recommends its SilverFlex ambient light rejecting screens, but they're not cheap), because it can support a picture size up to 150 inches with a problem.
Other excellent specs here include an advanced form of 4K designed to work well with high brightness levels, as well as HDR10 support. There are three HDMI ports on the projector, with one designed specifically for gaming at up to a 120Hz refresh rate. The Android TV platform also makes it quite easy to operate.
This is simply the best projector we've found for watching with other light sources around, like sunlit windows or living room lights overhead. If that's an important consideration for you, you need a projector that's designed for that environment, and the Epson EpiqVision Ultra LS800 more than delivers.
Epson EpiqVision Ultra LS800
Best projector for light-filled living rooms
Hisense PX1-PRO Laser Cinema
Best projector for accurate color
Pros
Excellent short-throw design
Great color coverage
eARC support
Dolby Atmos support
Android TV platform
Cons
Not as useful if you don't use Google apps
Why you should buy this: It offers great color accuracy and easy setup.
Who it's for: Those who hate washed-out projections and buyers who want a simple setup.
Why we picked the Hisense PX1-PRO:
This slim projector uses Hisense's TriChroma engine to produce amazingly accurate colors, covering the full range of the BT.2020 color gamut with its RGB lasers. That makes it a great pick for those who are used to a vivid image and don't want to give up any color accuracy on a projector. Peak brightness can reach 2,200 lumens, and at 90 x 130 inches, you're guaranteed support for a 4K image. The useful short throw of this projector also means that it only needs to sit inches away from your screen or panel.
The model also comes with HDMI eARC, which we love to see for easy setup and speaker passthrough without losing any audio quality or image optimization that your content may support. Dolby Atmos compatibility is also built-in for audio improvements, a feature many projectors miss out on. It also works very well with a variety of devices thanks to its Android TV platform, which supports casting via Chromecast so you can project shows and videos from all kinds of apps in seconds.
Hisense's projector also comes with a few different modes to help out certain activities, including a gaming mode that enables automatic low latency, and a filmmaker mode that disables motion processing so you get the most authentic projection images possible.
Hisense PX1-PRO Laser Cinema
Best projector for accurate color
Optoma HD146X
Best budget projector
Pros
Affordable
Good color accuracy
Light enough to be portable
Why you should buy this: You want a high-res, 1080p picture and 16 ms response time at a great price.
Who it's for: Budget-conscious buyers who want a beautiful HD picture, long-lasting lamp, and easy setup and use.
Why we picked the Optoma HD146X:
The updated version of the much-loved HD142X, the HD146X is a value-prop beast, perfect for those that don't want to spend major dough on a projector for the occasional big game, movie night, or Mario Kart showdown. The affordable projector provides a full 1080p (1920 x 1080) image, 3,600 lumens of brightness (up from the HD142X's 3,000), and 15,000-hour lamp life (10,000 on Eco mode and 4,000 on Bright mode) — enough to last for years of heavy use.
Colors are vivid, especially in Cinema mode, which cuts the projector's overall brightness in half to provide better shadow detail in dark rooms. Gamers wanting to throw their latest conquests on the big screen will like the 16 ms response time of the Enhanced Gaming mode, too, which reduces lag and motion blur.
At just over 6 pounds, the HD146X is easy to take with you to backyard movie nights or sporting events. And while it doesn't have the automatic setup features of higher-tiered projectors, adjusting the image to fit your screen (from 28 to 302 inches) with the manual lever is quick and easy.
As a simple projector solution, the Optoma HD146X is the perfect option for the vast majority of everyday viewers. Let's face it, most of us aren't looking to fill out the perfect home theater — we're just looking to watch a movie after a family barbecue, have a home cinema night, or watch the big game.
Optoma HD146X
Best budget projector
AAXA P7 Pico Mini Projector
Best portable projector
Pros
Can carry it anywhere
Great battery life
Last-lasting LED light
Cons
Limited use outside of presentations
Why you should buy this: Tiny size, big pixels, and long battery life.
Who it's for: The on-the-go business people who want full HD visuals and don't want to lug around a huge monitor for presentations.
Why we picked the AAXA P7:
If you often find yourself wishing that you had a big screen in your backpack, you'll want to check out the AAXA P7  Mini HD projector. With up to 90 minutes of battery life per charge, 600 LED lumens of brightness when plugged in (450 lumens on battery power), and full 1080p resolution that can project an image up to 120-inches in low light, this projector is a bit of a dynamo in a tiny package.
And while you likely won't be using this in your home theater, you wouldn't be left in the dark with the P7 if you were having friends over to watch a game or movie in a pinch.
The AAXA P7 Pico Mini Projector will last you a while, too. The LED lamp inside the projector is good for 30,000 hours, which means you'd have to use it for hours a day for decades before you need to replace it. If you're looking for a tiny little projector to take with you anywhere, this is the one we'd pick.
AAXA P7 Pico Mini Projector
Best portable projector
Sony VPL-XW5000ES
Best premium home projector
Pros
Advanced 4K technology
Excellent DCI-P3 coverage
Sony'z X1 chip offers many advantages
Cons
Lumen levels are a little low for bright rooms
Why you should buy this: It offers amazing color and accuracy for a more authentic theater experience at home.
Who it's for: Those who don't mind spending more to get a home projector that brings movies to life.
Why we picked the Sony VPL-XW5000ES:
Technically, you can spend as much as you want on a home projector. If you're building your own home theater room from the ground up, you could drop $28,000 on, say, the Sony VPL-XW7000ES to bring the movie theater experience directly to your house. But come on: That price is way beyond most interested buyers, even those with higher budgets. Fortunately, there's a far more affordable (albeit still expensive) mode available, the Sony VPL-XW5000ES.
This projector's specialty is stunning color and accuracy, aided by the 4K SXRD panel, and Sony's powerful X1 chip to manage all the details. The laser light source can reach up to 2,000 lumens (a bit more suited for authentic dark room viewing, but still plenty bright), and the "Triluminos Pro" software works with over a billion colors to set the right shades and reach 95% of the cinematic DCI-P3 color gamut – pretty good for an at-home projector!
HDR support is joined by object-based technology to sharpen any important subjects in a scene, and gamers will appreciate the built-in lag reduction along with connections that support up to 120Hz refresh rates. While all this advanced tech comes at a price much higher than our other picks, it's also one of the best ways to guarantee an astounding, theater-like experience in your own home.
Sony VPL-XW5000ES
Best premium home projector
Frequently Asked Questions
How you should pick a home theater projector?
Even when picking an entry-level projector, there are a few basic things to keep in mind. The most important is the projector's brightness capability. Simply put, the higher the number of lumens, the brighter the image. The more ambient light you have in the room when you watch, the more brightness you'll want to combat it.
You'll also want to consider the projector's throw ratio, which explains how wide a projector's image will be given the distance between the lens and the screen. Also, be sure the projector you pick offers enough keystone correction and zoom ability to match your installation.
Sound complicated? It's not as hard as you might think. (And for that matter, neither is setting up a home theater projector.
Finally, you've got to think about sound: You can count on nearly any projector's built-in speakers to be terrible. They are an afterthought in most cases, designed to get you by if you're doing an office presentation, but not much more. Any projector will benefit from even a modest outboard speaker system, such as a soundbar, though for big movie nights, we say go nuts with the sound system.
Will a projector work with my devices?
Home projector inputs are designed to be similar to HDTVs, but you should always check before you purchase. Usually, you won't have any compatibility problems, although you may need to rearrange some of your home entertainment equipment. Many projectors even have the same platforms that smart TVs use for easy streaming.
Does a projector need a screen?
It's highly recommended. A dedicated projector screen is the only way you'll get a sharp image with good color accuracy. But it isn't required for casual viewing — a solid, clean, white wall can be adequate enough for some applications.
How bright should a projector be?
Home projectors typically need a certain number of lumens to perform well, especially since they may be used in central rooms with windows or rooms with lights on. Most of our picks are around 2,000 lumens or higher.
How far away from the screen does a projector need to be?
It depends on the projector, and each projector will have specific instructions for the best results. Generally, you're looking at around 10 feet away for a traditional projector. But there are also "short throw" projectors that can work from only several feet away, and "ultra short throw" projectors, which can work from several inches away, which is useful in home theaters that don't have a lot of room to spare.
What color of screen works best for a home projector?
When you're ready to pick a projector screen, you'll quickly notice they come in a variety of colors, like white, silver, gray, and black. Which works best for you? That depends. Lighter screens tend to have better color accuracy and do well in low-light conditions and in dedicated home theaters. Darker screens tend to have better contrast and do better in brighter rooms with ambient light. The brighter the projector, the less you'll have to worry about screen color.
What is keystone correction and do I need it?
Keystone correction features automatically sense if the angle of the projector isn't right, which would make the image tilted or otherwise distorted. It then tries to correct the image so that it appears flat.
Permanently placed home projectors shouldn't have much need for automatic keystone correction, since they should be set up and angled properly, both horizontally and vertically. Manual keystone correction may take some tweaking to get right, but then you don't have to worry about it again. Portable projectors get more use out of automatic correction features.
Can projectors overheat?
Projectors use fans, vents, and heat dissipation to stay cool, and it's usually very effective, especially with LED bulbs that don't produce much heat. If a projector is overheating, that's a sign something is wrong, like blocked vents or a broken fan.
Can I use a home projector in the backyard?
Our projectors on this list – except for our portable pick, are generally designed to be carefully tuned and left in place. But don't worry. We also offer another guide to the best outdoor projectors.
Additionally, we also have more detailed run-downs for you on the best portable projectors and the best 4K projectors.
Editors' Recommendations