If you're looking for a central command center for your smart home, look no further than a smart display. A smart display packs all the fundamentals of a smart home device on top of an easy-to-use interactive touchscreen with speakers. Many displays appear similar to tablets, smaller laptops, and other miniature mobile devices.
With a smart display, you can stream from your favorite music services, automate your lights and blinds, view security camera live feeds, call friends and family, ask for recipe ideas, play games, and so much more. From Amazon's Echo lineup to Google's Nest products, we've rounded up all the best smart displays you can buy right now. Read on to see which model is right for you.
Echo Show 15
The best smart display
Pros
Huge 15.6-inch screen
Widget functionality makes it easy to see tasks, smart home, and more at a glance
Different orientation options
Visual ID swaps between users
Cons
Lacks customization and personalization options
Software crashes without explanation
Why we picked the Echo Show 15:
Many smart displays are a little on the small side – and that can make them difficult to watch from across the room, limiting their range. The Echo Show 15 removes this concern with the largest smart display yet, a 15.6-inch touchscreen that you can mount on the wall like a picture frame or use with a countertop base, getting it right where you want. That also solves the problem of the Echo Show 10's swiveling design that felt awkward or needed too much space in many setups.
Of course, you also get all the Alexa benefits here, including the ability to stream video (Alexa supports streaming apps like Netflix and Hulu), control your smart home, video chat with friends, or look through devices like the Ring Doorbell. It's one of the most user-friendly models we've seen.
Who's it for: Anyone who wants the best smart display and is willing to pay for it, especially those who like watching shows and videos on a smart display that's part of a kitchen or office setup. Willingness to use Alexa is also important, but with the Matter platform starting to roll out, compatibility with smart devices isn't as crucial as it used to be.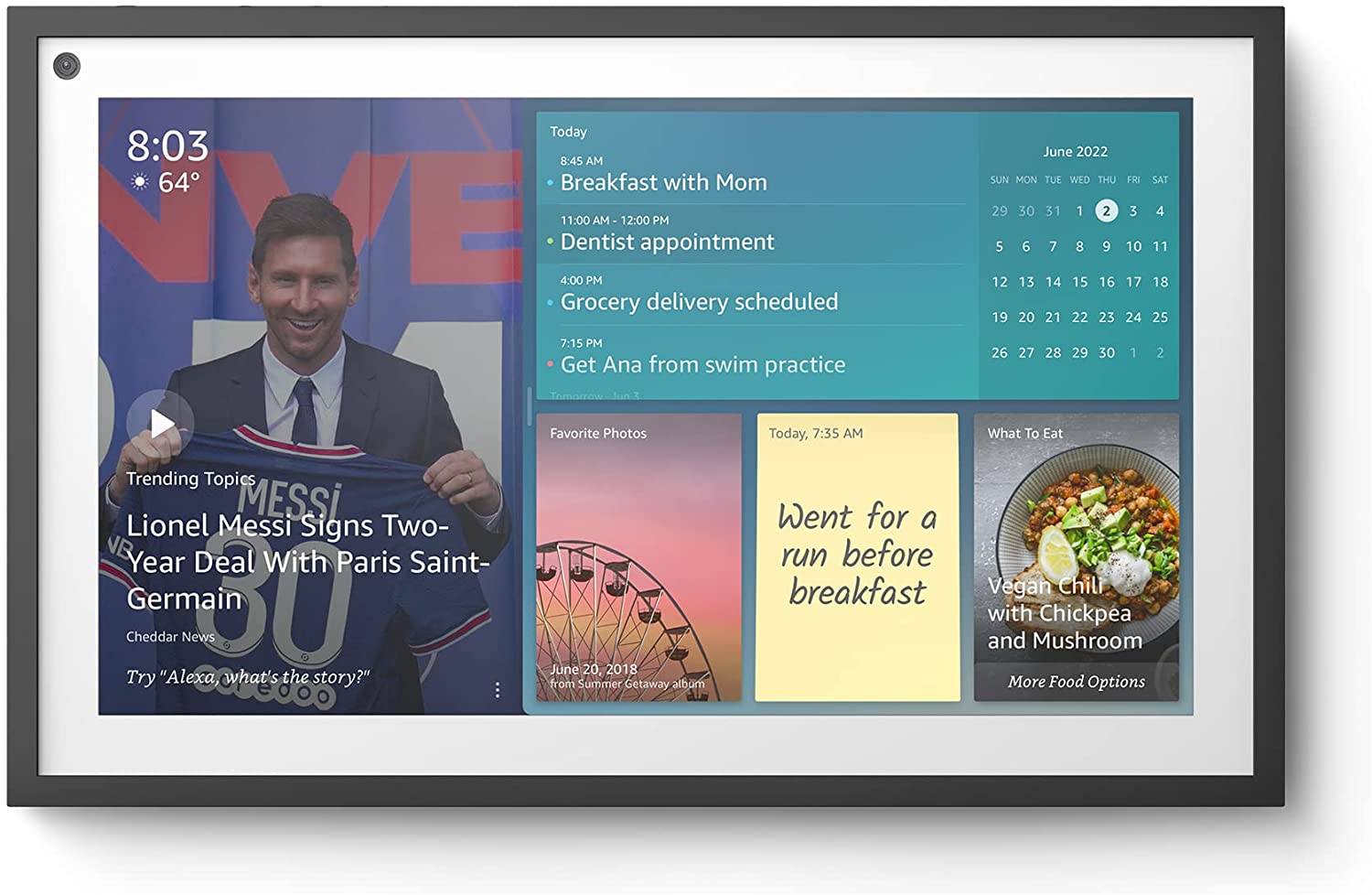 Echo Show 15
The best smart display
Google Nest Hub Max
The best Google Assistant display
Pros
Dazzling display, perfect for picture sharing
Camera adds a layer of home security
Auto-framing keeps us in view with video calls
Tailored experience thanks to Face Match
Cons
Audio quality is strained at louder volumes
Why we picked the Google Nest Hub Max: 
Sure, the Nest Hub Max has a larger screen than the original Nest Hub, but it also offers a lot more features and functionality in addition to its brilliant HD screen. It has a 6.5-inch megapixel camera with auto-framing so you can make video calls, and the camera will even follow you as you move around the room.
Face-match technology allows for a more personalized experience. When the Hub recognizes your face, it can show you content specific to you (video messages, reminders, upcoming calendar events, etc.). Up to six users can save a face-match profile. The Nest Hub Max also allows for quick gesture control, so you can use hand gestures to control certain functions (like pausing or playing a music track).
The Hub Max has a Nest Cam built-in. You can use the Nest Cam to check on your home while you're away, although some of the more advanced features require a Nest Aware subscription.
Who's it for: Those who want a feature-rich display that serves multiple functions. The Google Nest Hub Max is a versatile device that does it all … although it lacks the wall frame and extra-large screen options of the Echo Show 15.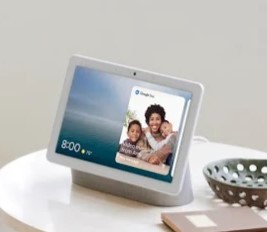 Google Nest Hub Max
The best Google Assistant display
Google Nest Hub (2nd Gen)
The best no-camera display
Pros
Accurate sleep tracking
Tons of data about your sleep
$100 starting price
Cons
Few new features over previous model
Why we picked the Nest Hub 2nd-generation:
Google's Nest Hub smart display is one of the few that lacks a camera for video chatting, so you can only make voice calls using the device. Just like the original Nest Hub, the Nest Hub 2 doesn't have a camera, but it has a 7-inch touchscreen that lets you better interact with Google Assistant. You can view recipes, watch shows, see song lyrics, see the devices in your smart home, and more.
The 2nd-generation model added in Soli radar for motion sensing, which allows the Hub to perform a feature called "Sleep Sensing." This means the Hub can gather sleep data and provide tips on how to sleep better. Our review found this feature to be surprisingly accurate, with a dashboard that displays accurate data on how long it takes to fall asleep, respiratory rate info, and how long it takes to get out of bed.
Who's it for: Those who use Google Assistant and want to view info on a smart display but don't mind if their device lacks a camera. The Google Nest Hub is great for looking up recipes in the kitchen or checking your calendar with a voice command, so it's ideal for a kitchen or as a bedside companion.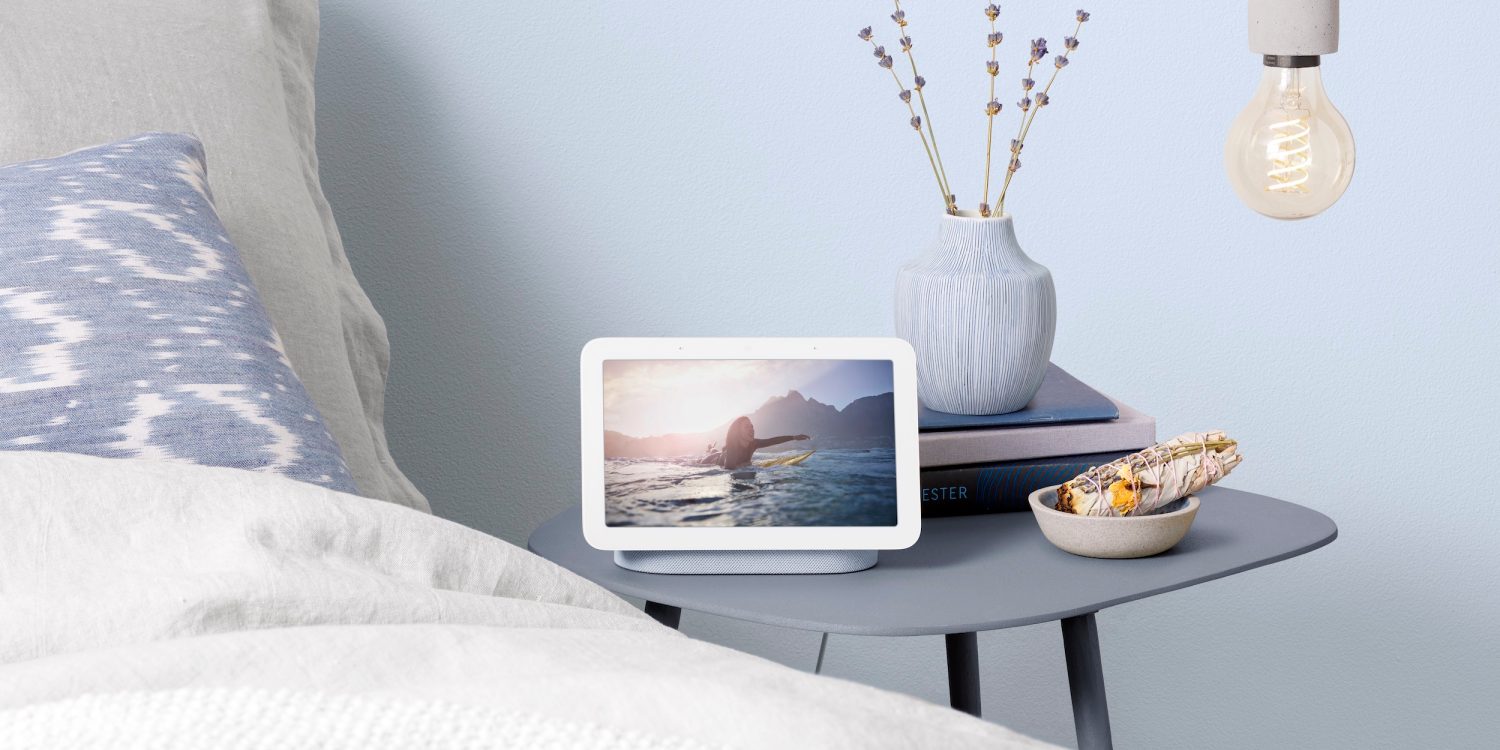 Google Nest Hub (2nd Gen)
The best no-camera display
Echo Show 5 (2nd-gen)
The best budget smart display
Pros
One of the most affordable smart displays
Compact design that can fit nearly anywhere
Welcome privacy features
Cons
Too small for some purposes
Why we picked the Echo Show 5 (2nd-gen):
The Echo Show 5 is pretty small, with only a 5.5-inch screen. The Show 5 does, however, have a lot to offer in a tiny package. It supports the basic functions you can perform with most smart displays — make video calls, control your smart home devices, watch videos, and ask the assistant questions. But the Show 5 is a budget display, so it only has a 2-megapixel camera and a single 1.7-inch speaker. It also lacks the built-in Zigbee Hub that you'd get with the Echo Show 3. However, you can check in on your home using the Show 5's camera via the Alexa app.
The Show 5 thrives in terms of its privacy features. It has a slider you can use to physically block the camera. You can also take advantage of newer Alexa Privacy features, like the ability to erase your recordings for the day.
Who's it for: The Echo Show 5 is ideal for those who want a voice-assistant-powered device with a display screen but don't want to spend too much cash. It's the ideal starter smart display.
Echo Show 5 (2nd-gen)
The best budget smart display
Meta Portal
The best video call smart display
Pros
Affordable
AR filters for fun video chats with Meta apps like Messenger and WhatsApp
Built-in Alexa
Cons
Screen is a bit small for video chats
Why we picked the Meta Portal:
Once known as Facebook Portal, the revised Meta Portal is a picture frame-like smart display made to be Facebook-friendly. The 10-inch display includes a Smart Camera that can track your location when moving, and there's an easy-access augmented reality (AR) library to add effects and filters to your video chats, so it's ideal for casual video calls with friends.
The Portal works with expected apps like Messenger, WhatsApp, Zoom, and more, so you probably won't have to learn a new video platform. There's also support for common music services like Spotify, Pandora, and Tidal. While Meta doesn't have its own voice assistant (yet), the Portal fortunately comes with Alexa built-in, so it can do many of the things an Echo Show can.
Who's it for: Those who use Facebook and related Meta services a whole lot (especially for flashy video chats) and are comfortable using Alexa for the rest. It's also a good affordable pick for those who want to save money, although you can also spring for the 14-inch version if you want to pay more.
Meta Portal
The best video call smart display
Lenovo Smart Clock 2
The best alarm clock replacement
Pros
Full-color LCD screen
Smart design
Base plate with USB-A and Qi charging
MagSafe compatible
Great value
Cons
No video streaming
Finicky touchscreen
Limited configuration via app
Why we picked the Lenovo Smart Clock 2:
While some smart displays can make useful bedside companions (especially with easy-access to the camera shutter for privacy), Lenovo's model is one of the few versions that's specifically made to replace alarm clocks, although you may also find it works well on a desktop beside your computer. The small 4-inch touchscreen isn't great for watching movies, but you can use it to stream simple videos, show a slideshow of photos, reveal album art – and, of course, tell the time.
With the built-in Google Assistant, you also get access to Google's repertoire of smart capabilities and smart home routine support. The adjustable brightness is designed to include a small nightlight, too. And the model comes with a wireless dock that charges the clock, gives you a wireless charging pad that's the perfect size for your phone, and adds a USB-A port for charging other accessories.
Who's it for: Those who want a dedicated smart display for their bedside or desktop and don't plan on watching any lengthy videos on it.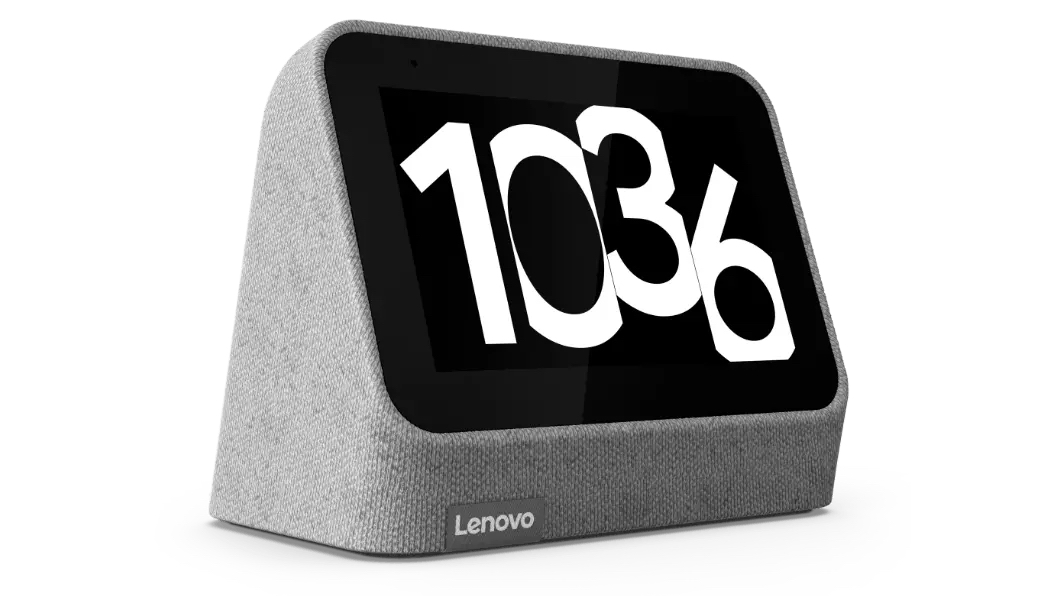 Lenovo Smart Clock 2
The best alarm clock replacement
Frequently Asked Questions
What is a smart display?
Think of a smart display as a Google Home or Amazon Echo speaker with a screen. This allows the voice assistant (Alexa or Google Home, for instance) to show you information instead of only telling you vocally.
What's the difference between a smart display and a tablet?
Although tablets and smart displays have some similarities — they both have a display screen, they both play music, and they often both have an assistant (Siri, Google Assistant, Cortana, etc.) — the two devices have different primary functions.
A tablet is a portable computing device that's primary functions are internet searches, social media, app games, email, etc. It's a personal device that's not meant to fill a room with sound. A smart display typically stays stationary and has large speakers for playing music out loud. Its primary functions include things like controlling smart devices and answering questions as well as streaming video or enabling video chats.
What can a smart display do?
Your smart display works with a smart assistant (like Alexa or Google Assistant) to read you the news, play music, play movies and TV, show you a feed of your security camera or video doorbell, show you a morning traffic or weather report, help you in the kitchen with conversions and recipes, set reminders and alarms for you, and so much more.
If I have a smart display, do I still need a smart home hub?
Not really. Some older devices that need Zigbee support won't always work with a smart display, but this isn't a common issue.
Most modern smart home products operate without the need for a hub, so you can control most smart devices with just your smart display (as long as they're compatible). However, having a smart home hub can make your smart home more efficient.
Sometimes hubs will be required for specific devices, like certain Philips Hue bulbs or security systems you purchase from a professional provider.
What should I look for when buying a smart display?
Your top preferences will strongly influence which smart display is best for you. The Echo Show 5 and Nest Hub are excellent products if privacy and reasonable prices are your biggest priorities. If the top of your preference list is a bigger screen and superior audio quality, and you can swing a higher price, then you should check out the Echo Show 15 or the Google Nest Hub Max instead.
Which voice assistant is better: Alexa or Google Assistant?
We don't have a definitive answer here. Alexa and Google Assistant often outperform each other in different categories. Alexa is compatible with a broader range of products than Google Assistant, for example. On the other hand, Google Assistant is superior when it comes to overall intelligence and responding to questions. 
Editors' Recommendations