For the past several years, Apple has made a special effort to cater to customers who seek a small, pocketable smartphone that doesn't stick out — or fall out — of their pockets. With the iPhone 13 series, Apple once again stuck to that formula before poor sales caused the company to abandon its cute little chunk of phone.
Despite its relatively poor sales figures, owners continue to shower their Mini models with love. While the iPhone 13 Mini is easy to operate single-handedly, it's a powerful piece of equipment that deserves the best protection. It looks almost identical to the iPhone 12 Mini at first glance, but because of improvements to the battery and camera, you will need to buy a different case than for the iPhone 12 Mini.
Here are some of the best iPhone Mini 13 cases we recommend.
Totallee Super Thin Case
Pros
Slim at 0.31 inches
Raised lip around the camera and screen
Compatible with MagSafe charging
If slipping your iPhone into a pocket has become a habit, this is the case you need. Totallee's Super Thin Case is the brand's slimmest yet at just 0.31 inches thick. This barely-there case is practically weightless too, made of a hard but flexible plastic that protects your phone from scratches, bumps, and minor drops. Unlike some other cases, there's no branding on the outside, maintaining the look of your new iPhone. There's a raised lip around the camera and screen for additional protection, and although it doesn't have built-in magnets, it's compatible with MagSafe charging. You can pick it up in 15 color combinations.
Mous Limitless 4.0 Case
Pros
AiroShock impact-absorbing technology
Good color options
Compatible with MagSafe accessories
We're big fans of Mous cases, and its latest, the Limitless 4.0, has everything you've come to expect from the brand: sleek good looks, a range of colors and finishes to choose from, and superior protection. We love the walnut version, but this case also comes in bamboo, black leather, carbon fiber, or a speckled black and white fabric model.
Made from polycarbonate and TPU with a walnut backplate, this case features built-in AiroShock impact-absorbing technology, and Mous puts its cases through extreme drop testing, so you can be sure your phone will be safe. This is the slimmest Limitless case yet, making it ideal for slipping into a pocket, and its built-in N45 magnet array ensures it's compatible with MagSafe accessories. Speaking of, Mous has its own range of MagSafe compatible accessories you can attach to the back of the case, like this handy card wallet.
Mujjo Full Leather Wallet Case
Pros
Unique build and design
Card holder
Soft microfiber lining
Cons
Bulkier than non-wallet cases
No list of cases is complete without a sleek leather wallet, and our pick is this one from Mujjo, which comes in tan, black, or dark blue. Crafted from soft, vegetable-tanned, full-grain leather, it will age beautifully over time, developing its own patina that makes each case totally unique. There's space for up to three cards/ID, and the leather not only wraps around the entire case, but the buttons are also leather-covered for a premium feel. A soft microfiber lining keeps the back of your new phone safe from scratches, and you'll find this case is compatible with wireless charging.
Mujjo Full Leather Wallet Case
OtterBox Commuter Series Antimicrobial Case
Pros
Silver-based antimicrobial additive
Made with 35% recycled plastic
Excellent protection against drops
OtterBox is known for its protective cases, and the Commuter Series Antimicrobial case offers all the slim protection of the Commuter Series together with a silver-based antimicrobial additive that protects against bacteria and inhibits microbial growth. Because this additive is woven into the case, it continues to provide protection over time, too. This case is made with 35% recycled plastic, and its dual-layer hard outer shell and soft inner slipcover provide protection against up to three times as many drops as military standard MIL-STD-810G 516.6. Secure grips around the outside, raised edges around the camera and screen, and port covers to keep dust, lint, and dirt out complete the package. You can pick this case up in Rock Skip Way (blue), pictured, Maven Way (pink), or black.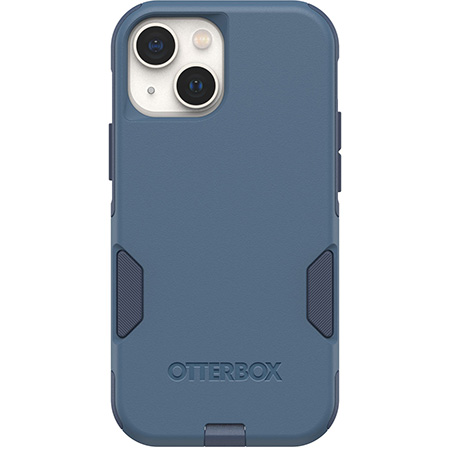 OtterBox Commuter Series Antimicrobial Case
Speck Gemshell Glitter Clear Case
Pros
Cool design
Double-layer protection
8-foot drop protection
Cons
May be too flashy for some
What if you want a clear case to show off your iPhone 13 Mini, but you find them a bit boring? This sparkly Gemshell Glitter case ticks all the boxes. The crystal clear case offers dual-layer protection, with embedded sparkly glitter that won't wear off over time. The case won't turn yellow either, as some clear cases do. This case is more than just a pretty, sparkly accessory for your phone. It offers up to 8 feet of drop protection and a raised bezel around the screen for extra protection. Microban antimicrobial protection is built-in, too, reducing bacteria on the case by up to 99%.
Speck Gemshell Glitter Clear Case
Raptic Shield Case
Pros
Exceeds military standard drop protection
MagSafe compatible
Sturdy bumpers
Cons
The back scratches easily
Raptic's Shield case combines the best of both worlds: a clear or translucent colored case with sturdy bumpers for superior protection. Available in iridescent, black, or red, this case is made from machined aluminum with a soft rubber inlay that features a bubble pattern designed to absorb shock and disperse impact. Speaking of impact, this case has been tested and exceeds military standards for drop protection, surviving drops of up to 10 feet onto concrete — making this a great choice for those butterfingers out there. There's a raised lip around the screen for extra protection against drops and scuffs, and the case is compatible with Apple's MagSafe charger and Qi charger.
Apple Silicone Case with MagSafe
Pros
Soft microfiber lining
Official case compatible with MagSafe
Great color options
Apple, of course, has created a gorgeous cover for its own iPhone 13 Mini. The Silicone Case with MagSafe provides the best protection for your iPhone. Its soft-touch exterior finish feels great in hand, while a soft microfiber lining offers a second layer of protection. Not only does it look great, but it's also built specifically to protect your iPhone from scratches and drops. Built-in magnets align to offer faster wireless charging so that when it's time to charge, you can just leave the case on your iPhone and snap on your MagSafe charger or set it on a Qi charger. Silicone Cases come in Marigold, Clover, Chalk Pink, Abyss Blue, Pink Pomelo, Midnight, Blue Jay, and (PRODUCT)Red.
Apple Silicone Case with MagSafe
Spigen Ultra Hybrid
Pros
Durable polycarbonate back
Excellent grip
Crystal-clear transparency
Cons
There's some text on the cover
Spigen wasted no time in coming out with the Ultra Hybrid for the iPhone 13 Mini, which features a TPU bumper with a durable polycarbonate back. Crystal-clear transparent yet grippy sides let the beauty of your phone shine through, while the case's raised bezels lift the screen and camera away from damaging flat surfaces. The buttons are easy to find and press, and large cutouts accommodate the cable.
Apple Leather Case with MagSafe
Pros
Classic case officially from Apple
Beautiful leather feel
MagSafe compatible
Cons
Leather design isn't for everyone
Here's another Apple gem, this time an iPhone 13 Mini Leather Case with MagSafe that adds chic style to protection, quickly snapping onto your iPhone without adding bulk. Made from high-quality, supple, tanned, and finished leather, the outside feels soft and develops a natural patina of marks and creases over time. Its built-in magnets offer an attach-and-detach experience for fast, easy wireless charging on a MagSafe or Qi charger. Interaction with MagSafe accessories will leave slight imprints, so if that's going to be a problem, perhaps choose an iPhone 13 Mini Silicone or Clear Case instead. It comes in Golden Brown, Dark Cherry, Sequoia Green, Midnight, and Wisteria.
Apple Leather Case with MagSafe
Moment Clear Case
Pros
1.9mm thin premium polycarbonate frame
Scratch-resistant coating
6-foot drop protection
If you'd rather not cover your phone with a case at all, consider the Moment Clear Case, featuring a 1.9mm thin premium polycarbonate frame augmented with shock-absorbing TPU for 6-foot drop protection. A scratch-resistant coating keeps the case looking new, but that's not all. The case features proprietary magnets for an outstanding MagSafe or Qi wireless charger experience. It is compatible with screen protectors as well.
Caseology Nano Pop Silicone Case
Pros
Well-known brand
Solid color-blocking look
Good at repelling lint and dust
Cons
May be too bold and bright for some
Caseology makes a splash with bold, contrasting, two-tone colored cases that have a casual but sophisticated look. The silicone feel of the case gives you a solid grip on your iPhone while repelling lint and dust. The case has a snug fit, slim profile, and raised ring around the camera for additional protection. It's certified with military-grade protection, is wireless charging compatible, and works with screen protectors. It's available in Avo Green, Black Sesame, Blueberry Navy, Light Violet, and Peach Pink external colors with contrasting inside hues.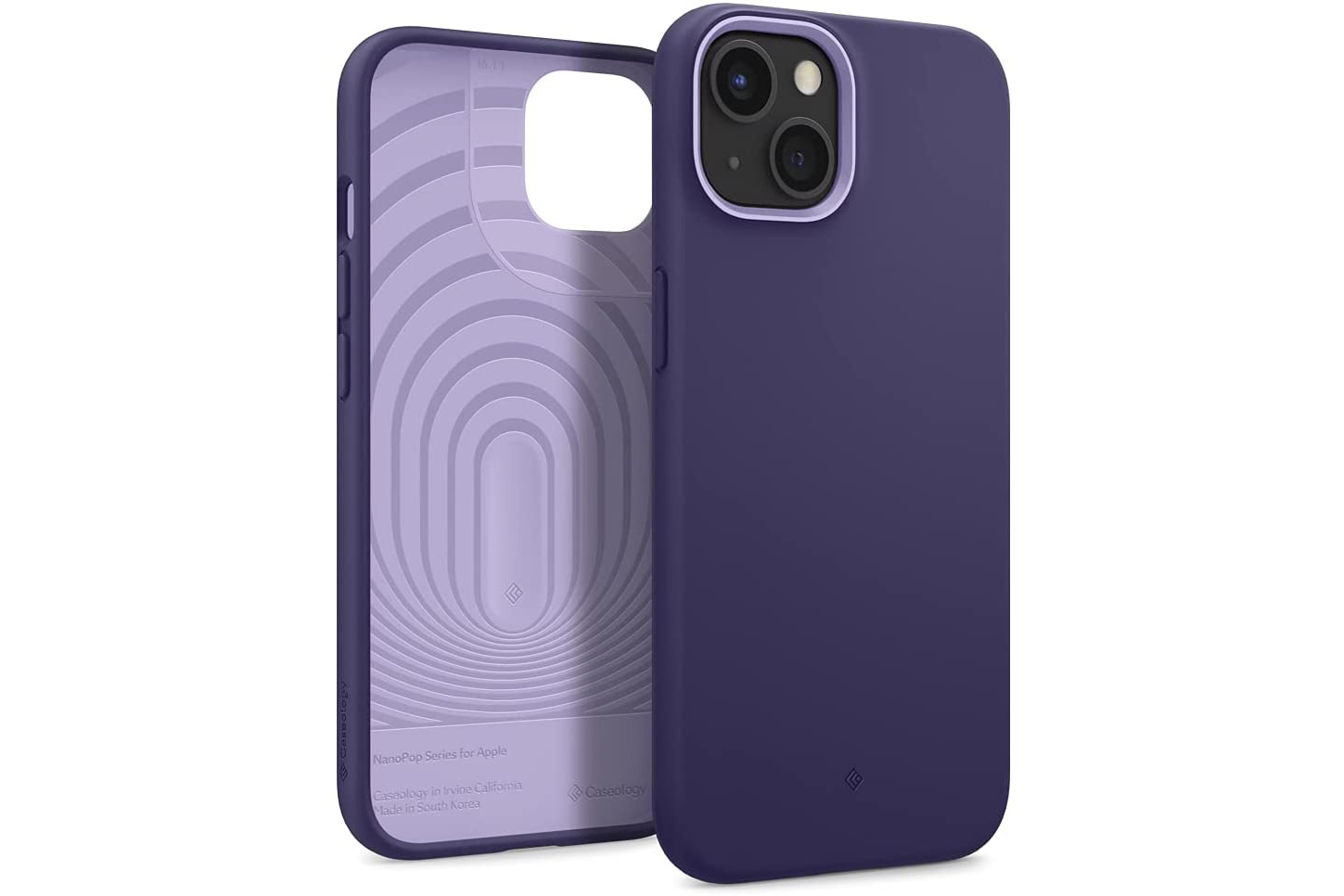 Caseology Nano Pop Silicone Case
Editors' Recommendations